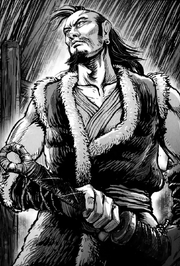 Ghost Blade Chen[1] is a sword mercenary who sells his services to Maba, one of the land owners in Guanxian.
Appearance
Edit
Personality
Edit
As mercenary, Chen has 20 years of life-and-death experience on his back. He thought he couldn't be defeated by a youngster. He has killed thirty government officials and had always been proud of his swift blade. He was his first and last experiences with the true speed.
Major Battles
Edit
Ghost Blade Chen vs Yan Xiao Liu. He confronted him in Guanxian at the beginning of the history between two land owners. They represent one of each land owner.
References
Edit